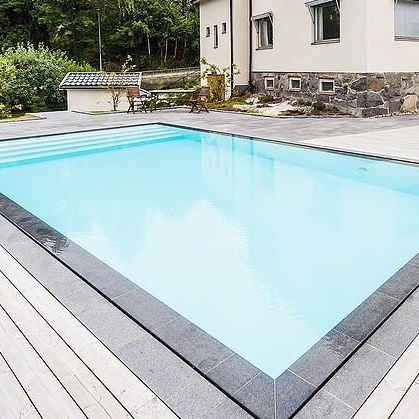 You are considering installing an outdoor in-ground swimming pool and you are browsing through websites that show a vast range of beautiful pools in all shapes and sizes. One of the first decisions you need to make is how big it should be. While budget and available garden space are an obvious constraint, you should also take some other factors into account.
Factors To Consider When Deciding On The Size Of Your Swimming Pool
On the one hand, you want the biggest pool for your budget, but it must also match your needs. Running costs for things like heating and chemicals are higher for bigger pools. Smaller pools cost less, are easier to maintain and cheaper to run. Aspects to take into account include:
Usage profile
Available space including pool surrounds
Annual running costs
What Will It Be Mostly Used For?
Somebody who wants the pool to primarily be for exercise needs fairly long straight stretches with turning room at the end. The depth needs to be at least 4 feet (1.22 m) to prevent the swimmer's hand from scraping the bottom and for safe turning.
If it's mostly for recreational use or mainly for children, you might opt for a smaller pool where shape is mainly irrelevant and can be quite shallow. The depth of the deep end is typically 5.5 feet (1.7 m) but should be 9 feet (2.75 m) if an adult diving board will be installed. Also consider how many people will be using the pool at one time. A large family, with lots of young friends, will need a bigger pool for comfort and safety reasons.
Allow Space For The Pool Surrounds
As a simple rule of thumb, the surrounding area for decking or paving will be roughly the same as the total area of the pool itself and should be at least 6 feet (1.8 m) wide. Safety dictates that you allow ample space for inevitable running children and people moving around carrying trays of drinks.
It also means that big splashes will not go into the soil of your garden and cause muddy waterlogged patches. All of this may reduce the total space you thought you had available for the pool itself.
What Are The Most Common Swimming Pool Sizes In The UK?
Rectangular pools are the most common and are usually twice as long as their width, approximately. Popular dimensions are 10 x 20 (3 X 6 m), 15 x 30 (4.5 X 9 m), and 20 x 40 (6 X 12 m).
Where To Go For Advice On Getting The Right Swimming Pool Size For You?
It's always best to consult with professionals before making a final decision on pool size. Their experience means they will prompt you to consider aspects that you might not otherwise have thought of and they will know which aspects to prioritise before you make your decision. Call JB Elite today on 01536 646 007 to arrange an appointment at a time and place that suits you.