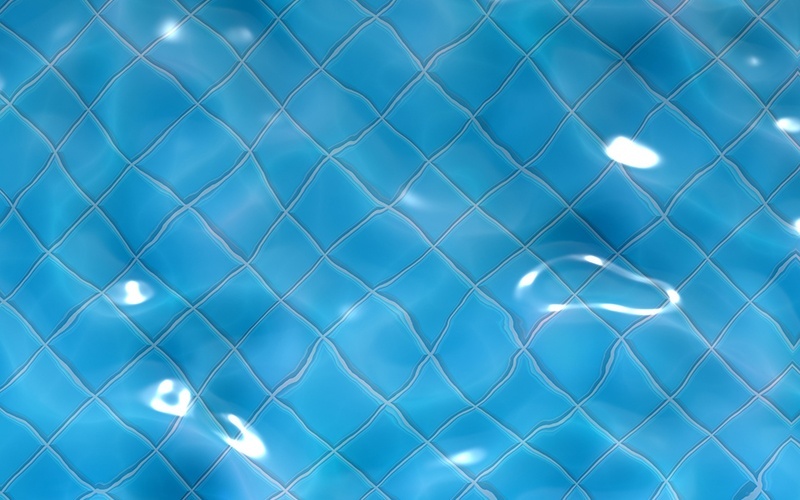 There is no swimming pool without a swimming pool liner - the liner is the support structure which holds the water in place. Pool liners are typically made of vinyl sheeting which is fitted tightly around the shell of the swimming pool. They are usually blue and vary in thickness from 20 mm to 30 mm.
There are two ways of fitting a vinyl swimming pool liner:
Beaded fitting – where the liner is attached underneath the top of the swimming pool wall by a track with a small groove, which fits a corresponding lip at the edge of the liner.
Overlap fitting – the liner is folded underneath the swimming pool top rail.
Different brands operate variations of these fittings. It is extremely important that your swimming pool liner is professionally fitted as improper installation can result in leaks and tears.
Alternative Pool Liners
The two main alternatives to vinyl are: fibreglass pools which are in effect solid shells, and tiled pools. Fibreglass pools tend to be inexpensive in comparison to other types of pools but the finish can quickly deteriorate. Concrete and tile liners give a classic look to a pool but need to be maintained correctly as otherwise there can be issues with grout.
Cost:
Vinyl pool linerscost around £50 per square foot, so it pays to take care of them and repair them where possible, rather than replace the complete liner. A well-maintained vinyl pool liner will last you for years but will need replacing eventually.
Fibreglass pool cost £25,000-£30,000 or more, but will last at least 20 years. It is unlikely you will need to replace it before this time.
A concrete and tile swimming pool will cost £40,000 plus. However, some pool owners - should they have a tiled pool they are having issues with - will choose to have their pool lined.
Repair Bills
When you notice a leak, the first question to ask is, can your liner be repaired? Small rips can be patched up inexpensively with a pool repair kit. These vinyl patches can be picked up for as little as £5 and can stop a leak in minutes.
More serious damage will need professional attention.
A straightforward repair job could cost £200 - £300, with £1800 or more for major repairs. This is cheaper than the £3500-£6500 required to replace a vinyl liner in an in-ground swimming pool so most pool owners repair their liner again and again rather than purchase a new one.
Regular professional servicing will pick up leaks before they get too bad and keep your repair bills to a minimum but damage is inevitable over the lifetime of a pool. The older a vinyl pool liner becomes, the more prone to rips and tears it is especially if the fabric is weakened by any previous damage.
Adding up the total repair bill over a ten-year period, some pool owners are surprised that the cost of repairing leaks far exceeds that of replacing the liner itself.
So when should you repair and when should you replace?
Repair:
Your vinyl pool liner is less than 6 years old and still within warranty
The liner is in generally good condition – i.e. it is not stretched or wrinkled and does not have a faded and/or stained appearance
The damage is minor and can be repaired easily and cheaply
The lifetime cost of repairs is at least 50% less than the cost of buying a new vinyl liner
Replace:
Your pool liner is 12 plus years old. The average life of an in-ground pool liner is 6 to 12 years. For aboveground pools, this is 6 to 10 years
Damage is extensive and the repair bill likely to be high
The liner is continually having to be repaired – this is a sign that your vinyl liner has lost its elasticity which happens over time
Your cumulative repair bill is more than 50% the value of a new pool liner
Your liner is exhibiting cracks and tears; a symptom of corrosion by pool chemicals and solar radiation that can lead to leaks
Your water level drops unexpectedly by 1 inch or more and has to be regularly topped up, but you can't find an obvious leak. Your liner has multiple cracks too small for the naked eye
Your liner looks 'tired' with algae and rust stains and faded patches
When To Replace
If you decide to replace your vinyl pool liner, do so over the start of spring or end of the summer pool season for outdoor pools so you don't miss out on summer swim time. If a leak can be patched up over the summer without risk of serious damage, then do so. For indoor pools this doesn't apply. You should act quickly to replace an old pool liner if there is no reasonable hope of repair, at whatever time of year.
Unless you are confident in your skills, don't attempt to replace the liner yourself! Call in a pool servicing company such as ourselves here at JB Elite. Depending on the size of your pool, we can fit a new liner in 5 to 7 days.
Modern vinyl pool liners come with a wide range of designs, are resistant to chemicals and UV radiation, and will give you many years of happy use. If you suspect a leak or would like to discuss the comparative benefits of pool liner repair and replacement please give us a call on 01536 646 007, or contact us online.