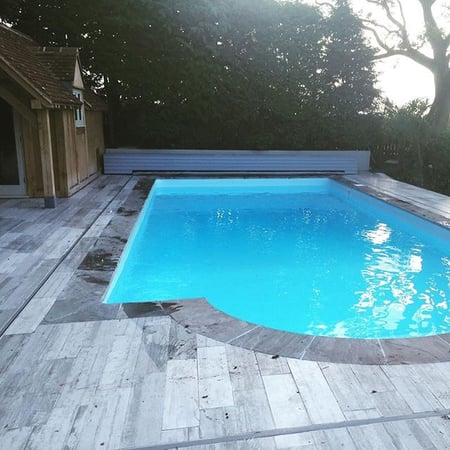 You want to be proud of your investment as the years go by and keep it looking at its best as well as ensuring it's always ready for family fun. Weathering through the seasons causes inevitable deterioration and some effects can be repaired as they occur. However, inevitably the passage of time takes its toll and you may consider refurbishment. But what indicators should you watch for that might indicate that it's time for refurbishment?
1) Continuous Or Excessive Leaking
When it seems that you are topping up the water level far more than you normally do, it's time to call in professional help to investigate the cause of the leaks. Winter frost and ice, as well as ground movement or subsidence, cracked pool walls or fractured pipes are all common causes of leaks. If left untended, they can cause even further problems as water leaks under the pool and softens the supporting soil.
2) Cracked Or Damaged Tiles, Coping And Surrounds
Not only a potential cause of leaks, these can also present a safety hazard and should be attended to as and when they are observed. Once this type of damage begins to manifest itself, it will only become more extensive in all probability.
3) Damaged Or Grout
This needs to be corrected before the properties and support provided by the grout to the tiles lead to serious issues. Always seek professional help to assess the cause of the damage and effect an immediate repair.
4) Cracks Or Stains In The Plaster
This can be a symptom of deeper underlying problems, such as ground subsidence, and not simply a matter of weathering or ageing. Stains are less of a threat but a professional will quickly identify the likely underlying cause form the colour of the stain.
5) Fading Vinyl Liner Colours
The fun seems to fade when the zingy colours do. Vinyl liner replacement is an option to consider for restoring your pool's life and vitality.
6) The Appearance Looks Dated
Nothing is more off-putting than a faded and ageing pool when you fancy a dip. It's quite likely that the structure itself may need attention too, as ageing is rarely only surface deep. Refurbishment smartens up your entire garden and adds zest and a new lease of life to family enjoyment.
7) Inefficient Pool Equipment
Modern heating systems include technology, such as heat pumps that extract the ambient heat from the ground or from the air, represent a breakthrough in low cost alternatives to traditional gas, electric or oil-fired heating systems. Modern heat pumps are considerably more efficient than clunky older models. It pays to investigate these efficient alternatives.
Speak To The Professionals
It's always advisable to call in professionals to assess any problems of the kind mentioned above. We at JB Elite provide all aspects of pool maintenance, servicing and refurbishments in the areas listed on our About Us page. Call us today on 01536 646 007 to book an appointment. It will at least provide you with peace of mind or enable you to take the proper corrective action now.